Category Archives: Issue 22
Thank you for reading!
Stay safe.
Thank you for reading!
Stay safe.
Crash Davis
The Gray Man
A man covered in gray dust was walking. He was very far away, but he never stopped walking. He was walking to find me. No matter how long it took, he would find his way up the steps to my door. My family was sitting on the couch in front of the TV. I was in the other room. They couldn't hear me. It was as if I was pressed between glass. I felt so lonely, and the gray man was walking up the steps to the door and then knocking on the door and then pounding and then trying to push the door in. It's an old story, told over and over and over again. I'm just telling it one more time. We know that something is very wrong and we are living it.
---
Source & Method
---
---
Crash Davis is the pseudonym of someone who used one only once before.
Josh Olsen
The Boy is Mine (An Erasure)
Lindsay left the reception early
gone back to her villa
running around naked
one thing after the next
painting her nails
looking at her phone
while DJing one event
speaking in a British accent
playing Brandy's "The Boy Is Mine"
jewelry stolen at the nuptials
but a rep declared
"None of those things are true."
---
Source & Method
The source of "The Boy is Mine" is  
"Lindsay Lohan in Nude Wedding Rampage," by Mara Siegler and Carlos Greer, published in 
Page Six on August 27, 2015
---
Josh Olsen is a librarian from Flint, Michigan and the co-creator of Gimmick Press.
Diana Newton
Surrender
I don't remember when
the girl of myself turned her back
and walked away
for a while lost
in the ignorance of loving
someone or something, the world shrunk
to mouth-size
I am so distant from the hope of myself
My days and nights pour through me like complaints
and become a story I forgot to tell.
I meet my shadow in the deepening shade
Soon I will raise my face for a white flag,
and when God enters the fort,
I won't spit or gag on his finger.
I will eat it like a white flower.
---
Source & Method
Cento. The contributors in order: Linda Hogan, Stephen Dunne, Mary Oliver, Marie Howe, Theodore Roethke, Anne Sexton.
---
Diana Newton is a newly released retiree, previously a filmmaker, author, and psychotherapist. She knows despair and delight and lies with down with literature every night. Reading "The Wasteland" by T.S. Eliot in college changed her life. She has kept a file of "poems I love" for thirty years.
Oormila Vijayakrishnan Prahlad
Flatlining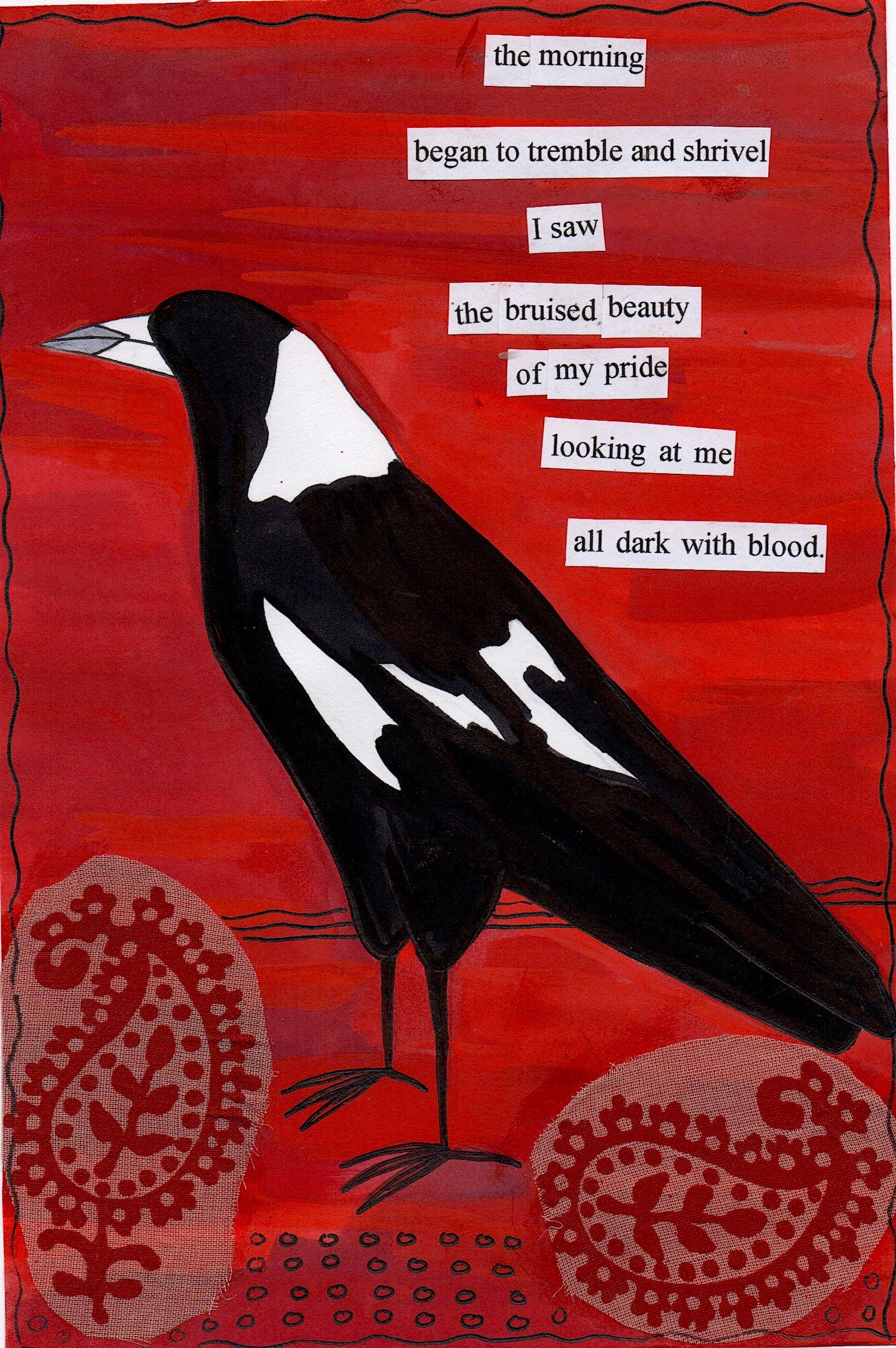 ---
Source & Method
Words and phrases from Chapter XXVIII of Leo Tolstoy's The Kreutzer Sonata. The found poetry reflects aspects of my isolation experience. The artwork is mine and has been made with gouache, inks, and cloth remnants.
---
Oormila Vijayakrishnan Prahlad is a Sydney poet and artist. She's a member of the North Shore Poetry Project, and Authora Australis, and has been widely published in both print and online literary journals and anthologies.
Mark Mahemoff
Ted Bundy explains
"You can go to the mouth of any great river
and pull out a handful of water
that's flowing from it and say,
where did it come from?
To trace it back, okay,
and this is what we're dealing with here,
we're talking about microscopic events,
as it were,
and undistinguishable, undetectable events.
The melting of a single snowflake,
as it were, okay?
The advent of spring,
and the combination of other forces
perhaps,
and the ultimate, uh, result
that we appreciate
which is the river itself."
---
Source & Method
In writing found poems, something I've been doing for many years, my method is always the same. Methodically read a text. Pick the best lines. And use them to construct a poem. The constraints I place on myself is that I use the lines exactly as I find them and do not take them out of sequence. The source is the telemovie series, "Conversations with a Killer: The Ted Bundy Tapes" (Creator: Joe Berlinger, 2019)
---
Mark Mahemoff is an Australian poet, critic and psychotherapist. He has published four books of poetry and his work is represented internationally in journals like Prism International in Canada, Kavya Bahrati in India, Kunapipi in Denmark, and Antipodes in the US. His most recent book is Urban Gleanings (Ginninderra Press, 2017)
Dawn Corrigan
Craig Arnold as Eustace Clarence Scrubb as Dragon
He leaped up in a panic
and began the descent.
At first, he tried to do it
too quickly, slipped on
the steep grass, and slid
several feet. He thought
this had carried him too far
to the left—as he came up
he'd seen precipices
on that side. So he clambered
up again and began
the descent afresh, bearing
to his right. He couldn't see
more than a yard ahead.
There was perfect silence
all around him. It's unpleasant
to have to go cautiously
when there's a voice inside you
saying all the time
"Hurry, hurry, hurry."
At last, he came slithering down
a slide of loose stones.
The light made him blink.
He was in an unknown valley,
the sea nowhere in sight.
About fifteen yards away
was a pool of clear water.
As he reached the edge
and bent towards the water,
he thought a dragon
was staring up at him.
But in an instant he realized
that dragon face in the pool
was his own reflection.
It moved as he moved:
it opened and shut its mouth
as he opened and shut his.
His first feeling was relief.
There was nothing to be
afraid of anymore.
He was terror himself now.
He turned to climb out
of the valley. He began
the climb with a jump
and found he was flying.
---
Source & Method
From C.S. Lewis, The Voyage of the Dawn Treader, Chapters V and VI. I've elided text, Americanized spelling, and added contractions.
---
Dawn Corrigan was a classmate of Craig Arnold's at the University of Utah in the '90s. She hopes he's enjoying his next manifestation.
Gail Goepfert
We were here—we saw sorrow
Here, lean in—
take time and slow your pace.
Everyone feels a little tender—
maybe this is the way of it.
The unspoken, the unspeakable—
such grief might make the mountain stoop.
Even trees must perform sorrow. Look
we can make do with so little, just the hint—
husk, leaf, little boat of paper
Doesn't joy, like fear, make no sound?
---
Source & Method
These poems are part of a collaborative effort chapbook written over the last month using "found" lines to write centos. Cento Sources: Rob Jacques, Mia You, Mike Hartnett, Kim Addonizio, Daniel Lassell, Stephen Spender, Anna Akhmatova, Robert Reeves, Molly Fisk, Mark Doty, Louise Gluck.
---
Gail Goepfert, an associate editor at RHINO Poetry, is a Midwest poet, teacher, and photographer. Her publications include a chapbook, A Mind on Pain, 2015, Tapping Roots, 2018, and Get Up Said the World which will appear in 2020 from Červená Barva Press. More at gailgoepfert.com.
Dale Patterson
Three collages/erasures with text
from Steppenwolf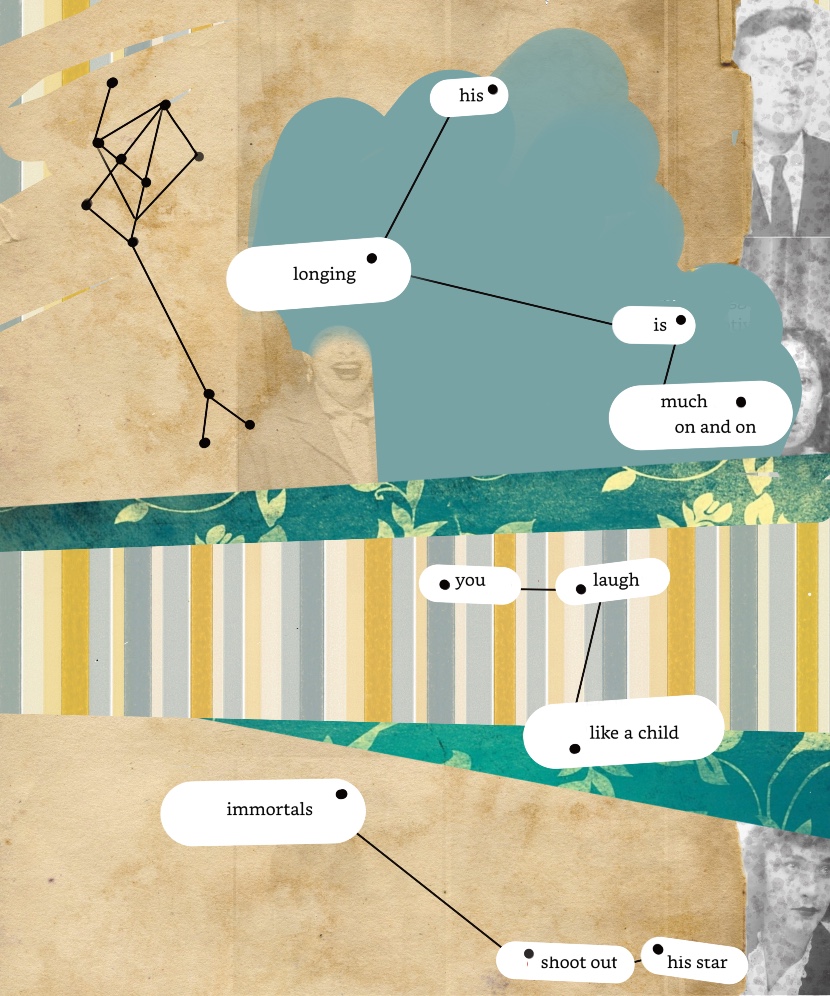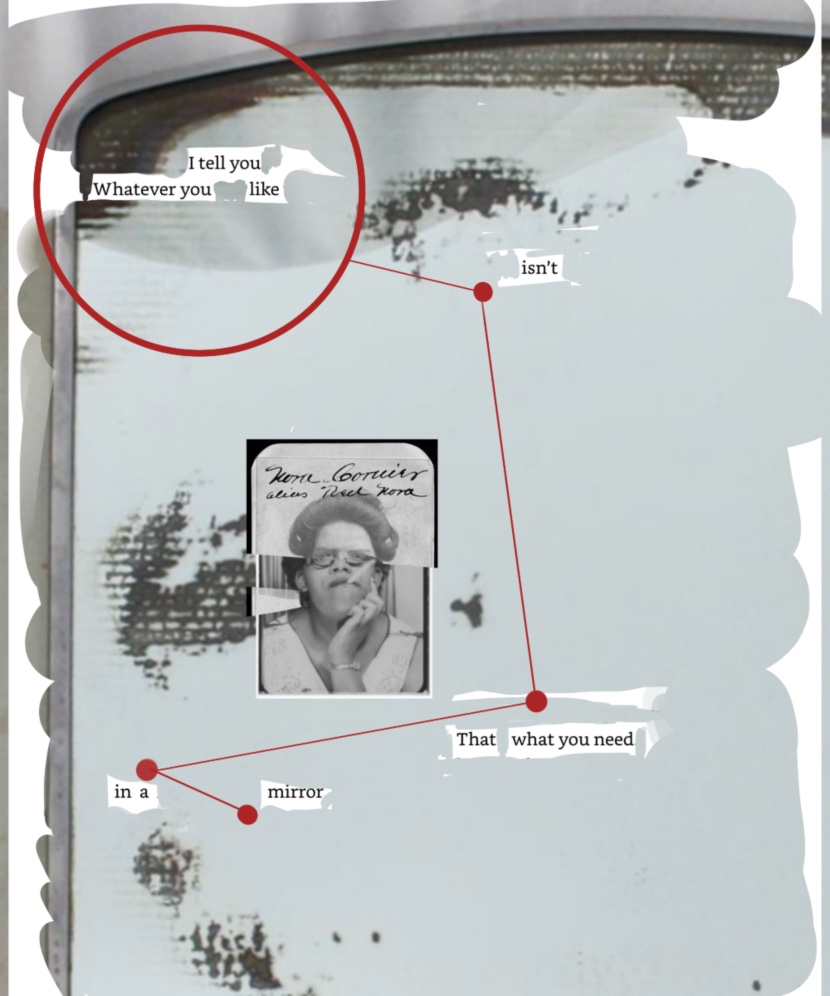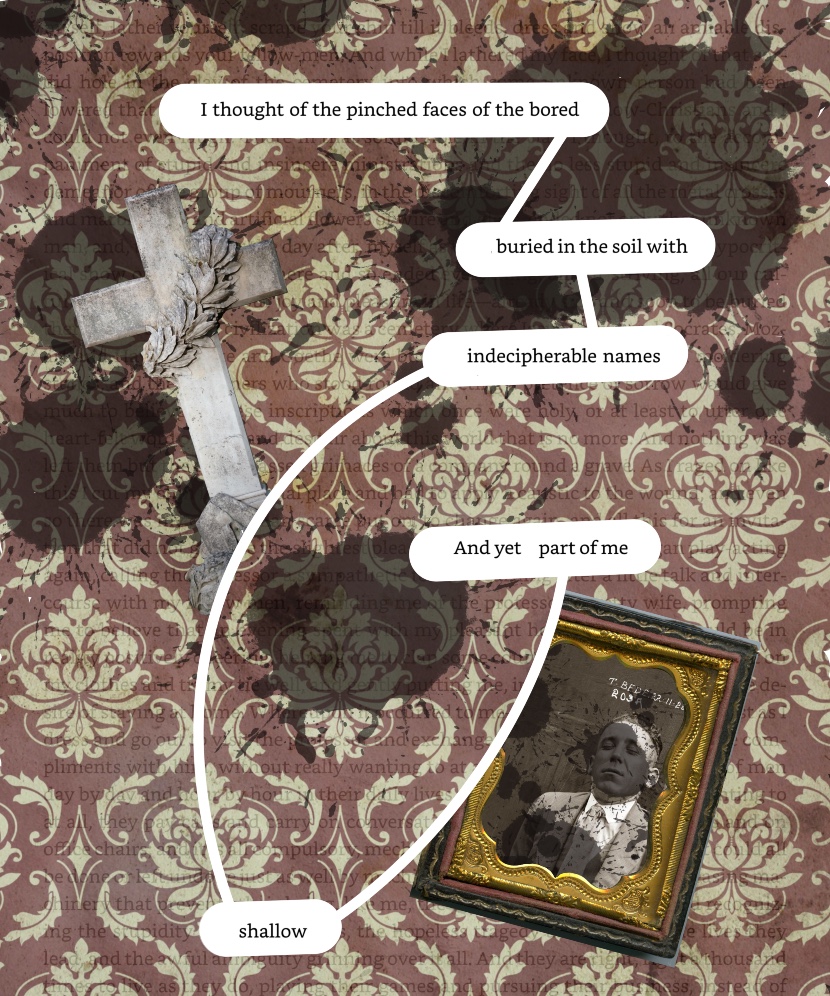 ---
Source & Method
A sculptor chisels a stone. I use pages from Steppenwolf and remove any words that are not in my poem.
---
Dale Patterson dabbles in whatever interests him: art, writing, gardening, life.
David R. Bublitz
Three collages
Steel Rain

For U

Sight Lines

---
Source & Method
This series of found poems come from Page 2 of the Enlistment/Reenlistment Document for the Armed Forces of the United States. After uncovering the poems, I created all of the artwork using Adobe Photoshop (primarily the pen tool).
---
David R. Bublitz is the son of a veteran. He completed an MFA at the Oklahoma City University Red Earth program, and his first full collection of poems, Combat Pay, was published by Main Street Rag Publishing Company in March 2020.
Patrick Pfister
Disintegration
Only the roof ……split.
People pushing forward to devotion.
Due to the law of increase and emptiness,
…………autumn is ………..impossible.
…………New seed ………..can develop,
depends on the earth giving to a mountain.
Benevolent tranquility begins from below:
…………………people on the rise
………………………………………must wait.
…………..A view of danger:
disturbed, isolated, extreme
…………………………………downfall.
Opposition to self can no longer
be endured………. Forces no longer
submit.
…………………….Fruit falls, seeds sprout.
…………………….Nature destroys itself.
---
Source & Method
Erasure of randomly selected hexagrams from the "I Ching," or "Book of Changes." Although most famous as an oracle, this ancient Chinese text is in essence a treasure trove of moral philosophy and condensed wisdom. In condensing it further, I found not the chaos I expected but rather a kind of crazy wisdom, the compressed thunder of a new essence. The format and line breaks are inspired by the broken and changing lines of the I Ching itself. Source: the Richard Wilhelm translation rendered into English by Cary F. Baynes and simplified by W. S. Boardman.
---
Patrick Pfister's recent books, Far From Home and North Beach Hotel, are available from Spuyten Duyvil Press. His poetry book, El Camino and Other Travel Poems, was published by Literary Laundry. He lives in Barcelona, Spain.
Jessica Moore
my time with a woman
I was thinking about light coming in
through white curtains,
the smell of ocean and sage
and fresh laundry. I felt beautiful
but also interrupted.
The woman's voice was a bird, flying
in a hot wind, battered,
you enjoy anything you're good at.
She was as proud as if she
herself created the meadowlark.
She reminded me of the tarot card
twenty-seven names for tears.
I just wanted to eat regularly.
This was not about being forgotten.
That year I craved suitcases,
I was making altars inside them.
It all seemed wrapped in plastic,
unreal like stewardesses, returned
like a slide show. I laughed, bitter
as nightshade. She was my life raft,
my turtle. On a full moon night
something moved her.
We slept on a new beach,
she ordered peach tea,
I sketched naked. How lovingly
she arranged the dark leaves,
the white blooms. The hot wind blew
and blew and would not stop.
---
Source & Method
All lines taken from Janet's Fitch's novel White Oleander.
---
A brand-new MFA graduate and Jessica Moore couldn't be more proud. Slightly less exciting–she works for the judicial branch of North Carolina. No pets, unless you count kayaking, running, and a cold IPA
Dana Guth
Three collages with text
from William Carlos Williams' "Paterson"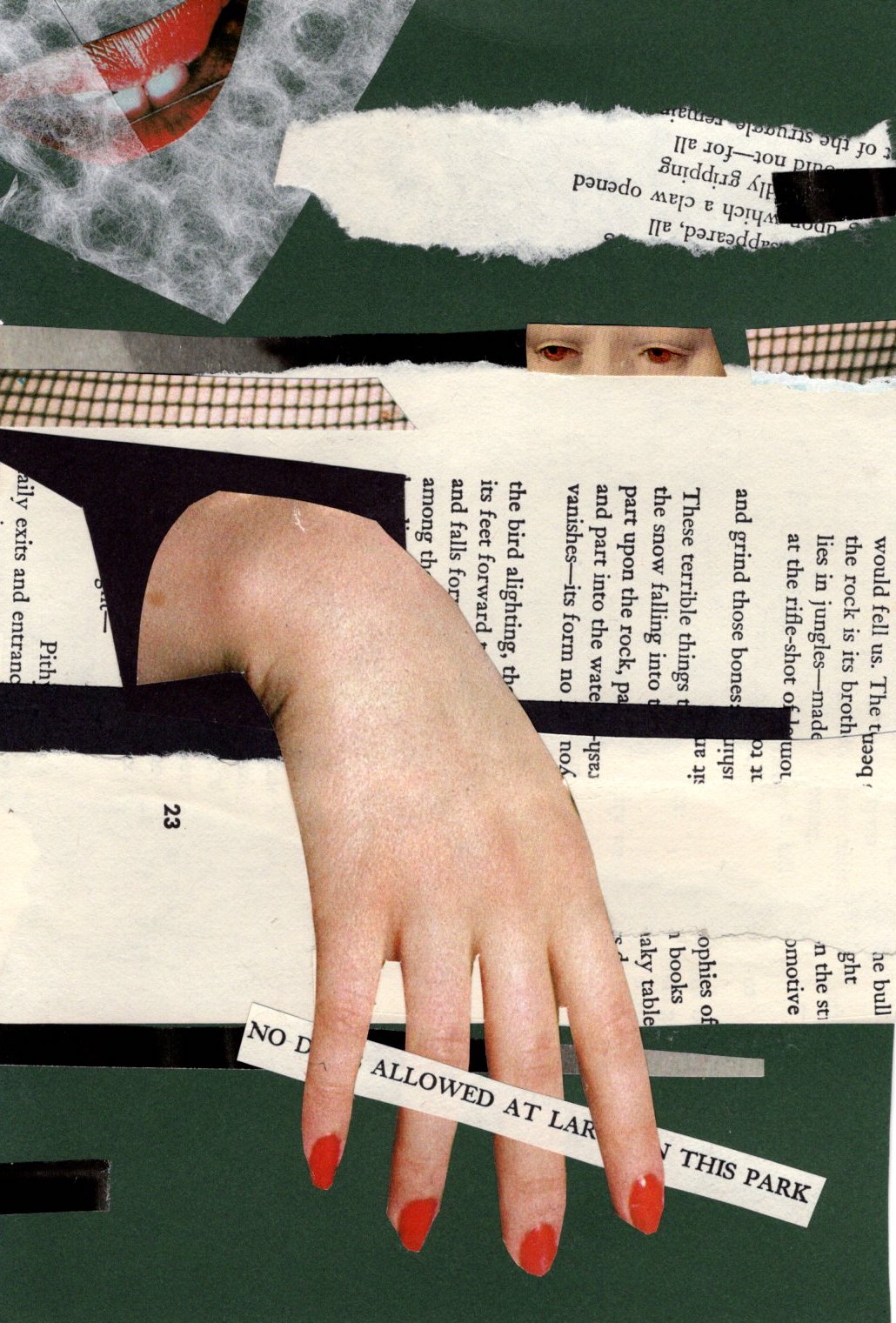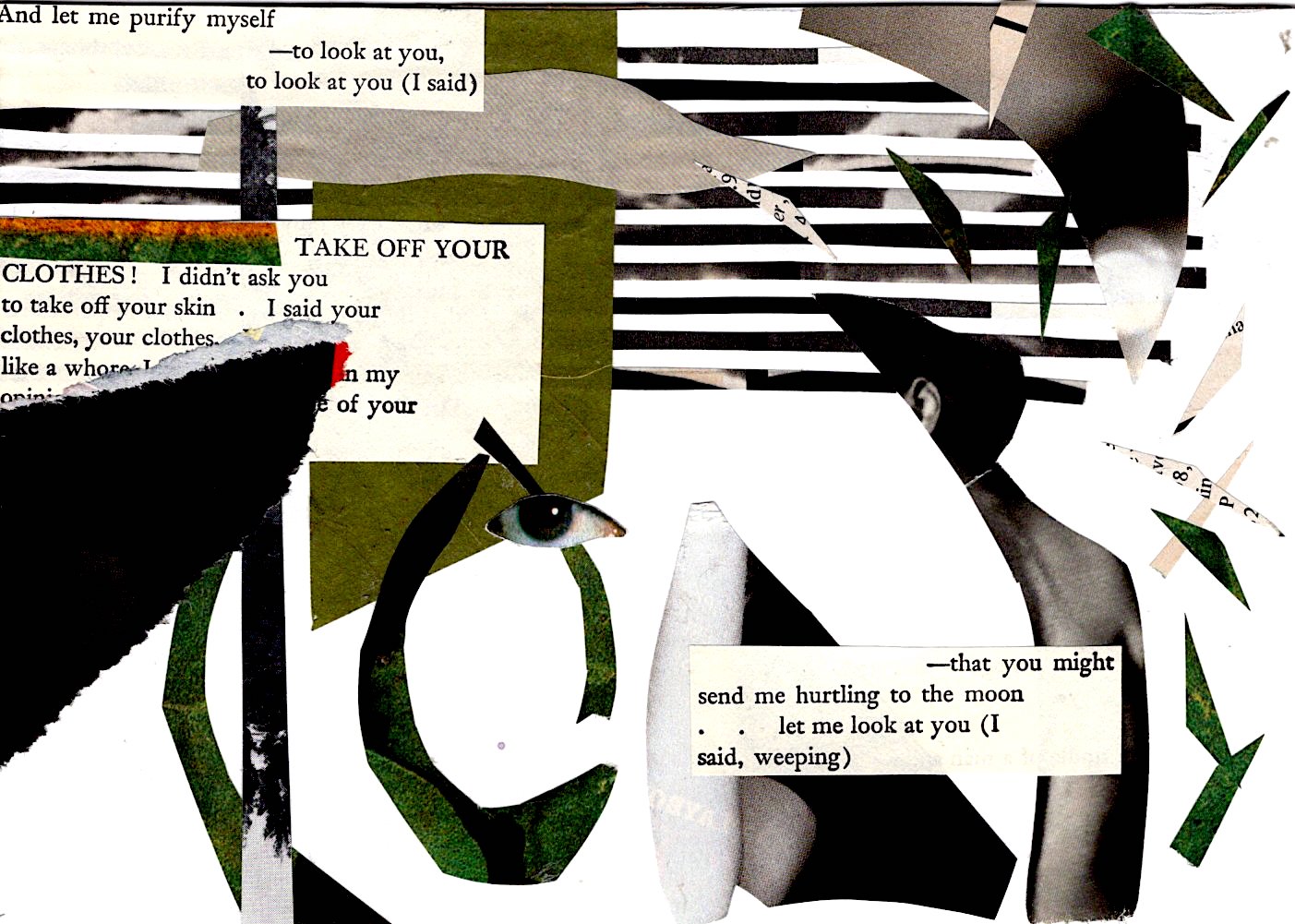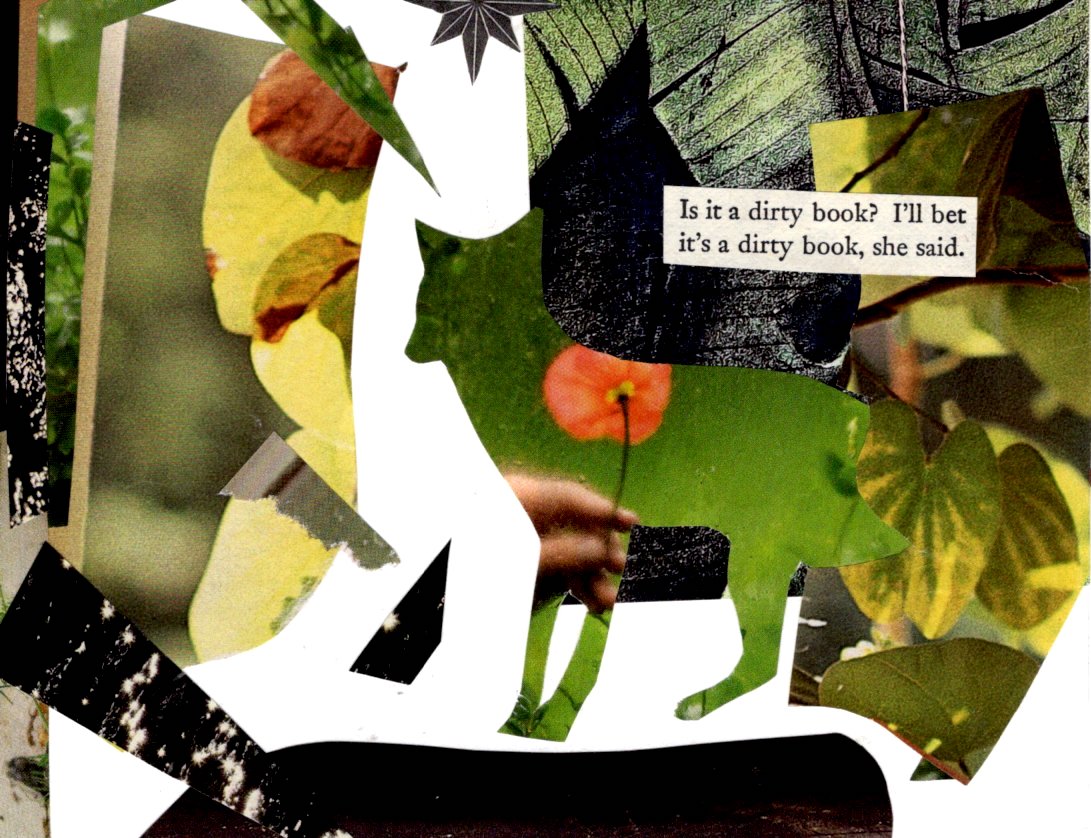 ---
Source & Method
These are analog cut + paste collages. The source text was taken from William Carlos William's long poem Paterson, originally published in separate books from 1946-1958. I like taking pieces of the poem(s) out of context and seeing what these fragments can spark visually.
---
Dana Guth is a writer, artist, and educator living in Portland, Maine. She recently graduated with an MA in Writing & Publishing from Emerson College.
Cai Draper
1,800pt
found in an interview with Fiona Banner
It's quite hard to believe
they are, in fact, without
language. A full stop
(I didn't know what that was
exactly): a pause or an end
it's a breath in-between. The people
might be the letters. Becoming real.
Solidifying. Like a sentence
from which the words have been removed, these
things have just popped out from fiction.
They made my father realise
how beautiful the trees are.
---
Source & Method
---
Cai Draper is a poet from South London. His work appears in various anthologies, magazines and journals. Sometimes he hosts poetry events with Arts at the Assembly House, and organises free workshops at the Book Hive. @DraperCai
Isabella Barricklow
April 20th, 2020 in email subject lines
Invitation to edit: voluntary positive message project.
State of emergency.
State of alarm…
Madrid is no longer available.
Italy is no longer available.
COVID-19 daily updates: your best news sources.
Posted scheduled assignment: deforestation.
No pool? No problem!
The ice caps are melting at an alarming rate–what can you do?
Earth.
Thank you for being a valued member.
Could not display renewal session.
Your special coupon expires at midnight.
Action required…
Trending topics: shelter in poems.
Go paperless!
Your password has been reset.
Submitted late: Test—"the future."
You have a suggested connection to review:
Shopping sales like never before!
Climate change: what it means for the average American.
The five blogs of your future:
Surprise!
This action could not be completed.
Here's a little Tuesday pick-me-up:
Reminder!
There's still time.
---
Source & Method
This poem is a found poem using the subject lines of emails I received during the week of April 20th, 2020 (during the middle of the COVID-19 pandemic).
---
Isabella Barricklow writes and teaches in Madrid, Spain. She studied English at Central Michigan University. Her work appears in Dunes Review, Third Wednesday Magazine, Cimarron Review, and on Poets.org. Find her on Instagram: @isabellabarricklow, Twitter: @BellaRose221, or Isabellabarricklow.weebly.com.
Nance Van Winckel
Three collages
Terraqueous Globe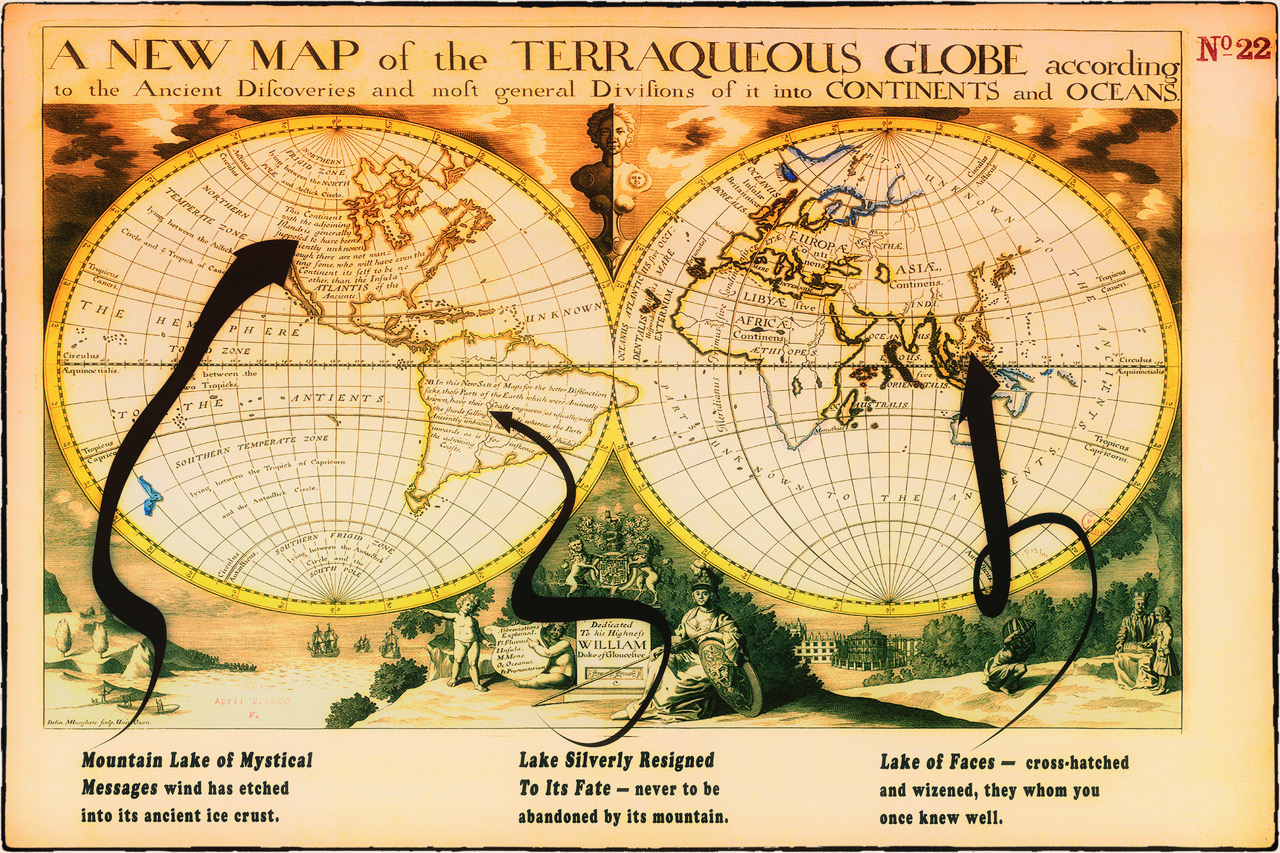 The Tracks

Feastland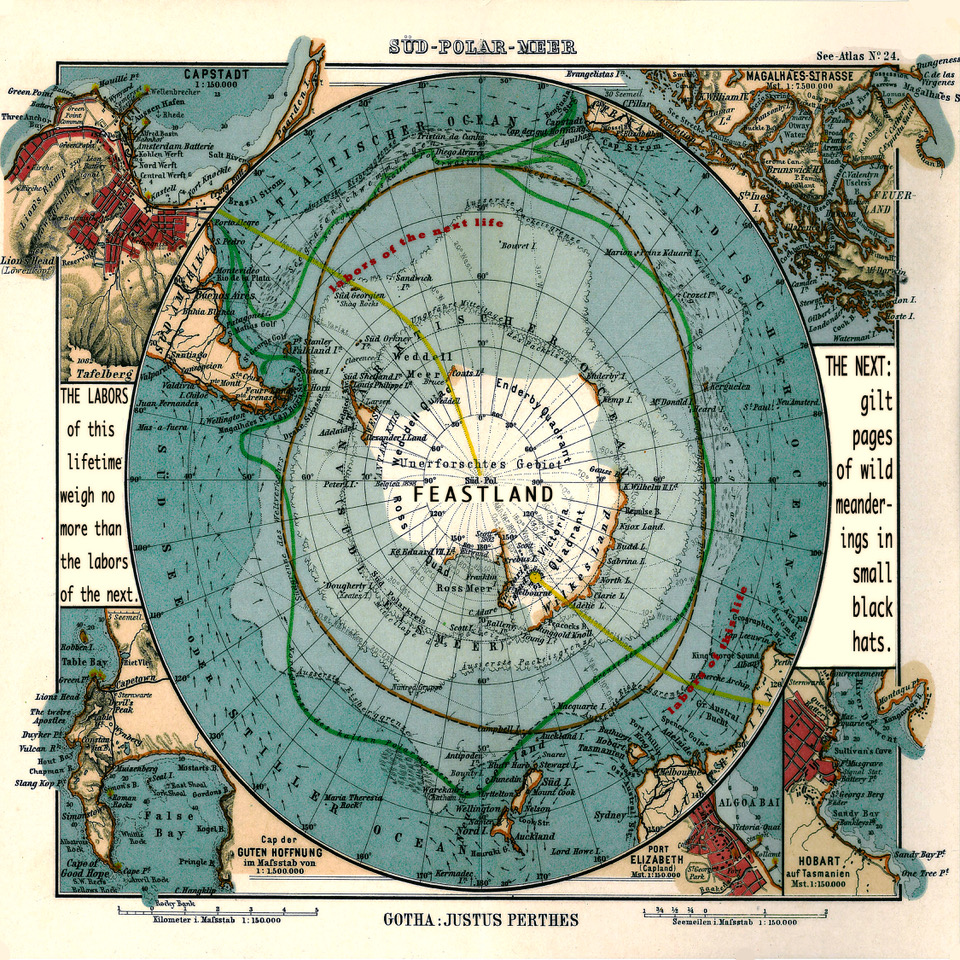 ---
SOURCE & METHOD
Old maps in the public domain, altered.
---
Nance Van Winckel is the author of a book of visual poetry (Pleiades Press, 2016) and six other collections of poems, four books of stories, and a novel. She's received two NEA Poetry Fellowships, exhibited collages in Northwest Arts Center and other places, and serves as Visual Poetry Editor for POETRY NORTHWEST.