A   B o o k s h e l f   P o e m   a n d   a   C e n t o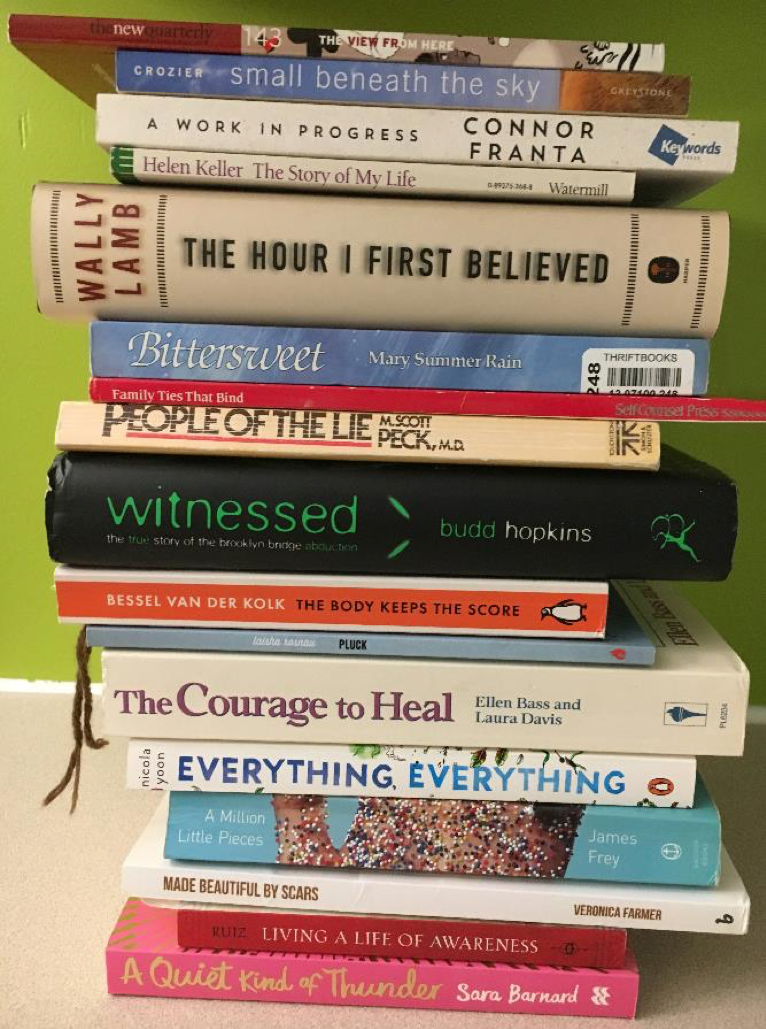 Small beneath the sky,
a work in progress—the story of my life.
The hour I first believed,
bittersweet.
Family ties that bind—people of the lie,
witnessed. The body keeps the score.
Pluck the courage to heal everything,
everything.
A million little pieces
made beautiful by scars.
Living a life of awareness:
A quiet kind of thunder.
---
Sources: "The View from Here," The New Quarterly Issue 143, "Small Beneath the Sky" by Lorna Crozier, "A Work in Progress" by Connor Franta, "The Story of My Life" by Helen Keller, "The Hour I First Believed" by Wally Lamb, "Bittersweet" by Mary Summer Rain, "Family Ties that Bind" by Ronald W. Richardson, "People of the Lie" by M. Scott Peck, M.D., "Witnessed" by Budd Hopkins, "The Body Keeps the Score" by Bessel van der Kolk, "Pluck" by Laisha Rosnau, "The Courage to Heal" by Ellen Bass and Laura Davis, "Everything, Everything" by Nicola Yoon, "A Million Little Pieces" by James Frey, "Made Beautiful by Scars" by Veronica Farmer, "Living a Life of Awareness" by Don Miguel Ruiz, "A Quiet Kind of Thunder" by Sara Barnard
---
The Important Part
Into the shadows, pausing
we glide along the river's graceful turn,
and sparkle with the glint of tiny stars,
unravelling the cause of night.
As if in a dream, we were already there
above the maples, poplars, oak,
the green-roofed barns—upon the infinite
simply by thinking
and it was.
Then the star-less night sky, its darkness so clear,
we were both now as far, we were both just as near,
awake and trapped in the was of night.
See then your world as lights whirled in the dark,
and lilt of its wings on wind—all that matters.
The important part is we're here.
---
Sources: "Woods" by David Waltner-Toews, "The Ferry to South Baymouth" by Bruce Meyer, "Of Night" by Molly Peacock, "Villanelle" by Catherine Owen, "A Wake" by Liz Howard, "City Park Merry-Go-Round" by Eli Mandel, and "Little Miracle" by Molly Peacock.
---
Shirley Harshenin writes from her home in British Columbia. She believes in angels, caffeine, and the human spirit's extraordinary resilience. Her work has been published and is forthcoming in Room, Contrary, Entropy: Woven and others.